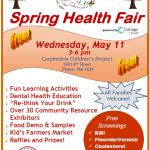 4th Annual Spring Health Fair – May 11, 3-6 pm
The Carpinteria Children's Project invites all families to participate in the 4th annual Spring Health Fair at the Carpinteria Children's Project on May 11th from 3 pm to 6 pm.
Activities will include free diabetes, vision, blood pressure and cholesterol health screenings for children and adults.  Also, fun activities for kids including a kid's farmer's market, Library activity table and fun physical activities. Learn kid-friendly health tips and community health resources from over 30 exhibitors.
For more information, contact Teresa Segovia at 566-1629.
Trackback from your site.